Upcoming Course Projects
Companies can bid on all, some, one or none of the projects listed below
Interested in bidding? click on project
Updated on January 6, 2023 
The City of Asheville is underwriting a significant capital improvement project here at the Asheville Municipal Golf Course. The project will be managed and executed by Commonwealth Golf Partners II – Asheville (CGPA) on behalf of the City. The City is responsible for raising the funds to execute the project and is paying CGPA a 4% management fee on all capital projects exceeding $25,000.
In total a target Phase 1 budget is $3.5 Million, through a mix of City of Asheville Capital Improvement funds, user based fees, and grants. To date over $2.7 Million has been committed to the project, with additional grants and funding sources pending.
| | | |
| --- | --- | --- |
| Source | Amount | Status |
| City of Asheville – Various Funding Accounts | $1,075,000 | In hand |
| COA Previous Design – | $29,800 | Spent |
| FMF '22 – 25 | $90,000 | Pending |
| PGA REACH Grant | $250,000 | Pending |
| Donald Ross Society Foundation Grant | $30,000 | In hand |
| Mary S Covington Foundation Grant | $20,000 | Pending |
| Capital Campaign/Private Donations/Sponsorships | $75,000 | Partial In Hand – Partial Pending |
| Payment of back payments from Pope Golf LLC | $324,000 | In Court |
| BC TDA – TPDF Grant | $1,641,425 | In hand |
| Total Goal Project Budget | $3,535,225 | |
The City & Commonwealth are currently negotiating a final scope and scale of the project. After a Phase 1 final budget is agreed upon it will be posted on this page. We anticipate a final budget to be agreed upon by February 1, 2023. A goal budget (assuming all of the above funding is awarded) is listed below.
Expenses
Stormwater & water retention design
$222,375
tree study
$3,500
Stormwater assessment –
$26,300
Donald Ross Restoration Master Plan
$30,000
Stormwater Remediation & Irrigation Water Retention
$1,779,000
Greens Updates
$240,000
Bunker Updates
$250,000
Select Fairway regrass
$100,000
Tree removal, thinning & replacement
$250,000
cart path repairs
$275,000
Fabrication & installation of historical marker signage
$25,000
Clubhouse refreshing
$50,000
Contingencies
$284,050
Total
$3,535,225
The target timeline for the project is as detailed below. However, this timeline, like the budget above will change in the coming months with the final agreed upon budget and project scope.
Winter '23
Spring & Summer '23

Bunkers
Agronomy practices
Tee Boxes
Cart Paths
Tree Planting
Stormwater

Fall '23

Stormwater
Agronomy practices
January 2023
Tree Removal, Thinning & Replacement
After presenting the tree removal, thinning and replacement plan to the City of Asheville's Urban Forestry Commission, recommendations were heard, reviewed and acted on. A third TRAQ certified arborist was hired to review the trees originally proposed for removal and provide input and recommendations on their removal, pruning or if no action is necessary. The third party arborist agreed prior to conducting the review that their company would not, and is not interested in bidding on the actual project, therefore maintaining an independent view.
As a result, the total number of proposed trees for removal on the course was reduced from 157 to 111. Additionally the total number of trees to be pruned was increased from 38 to 83 trees. During the third party review, many trees were adjusted from a plan to remove to a plan to prune, some trees were completely removed from the project and some trees were added to the project for either removal or pruning schedules.
Additional clarification for the need for a removal or pruning of a tree was also provided and can be viewed on THIS DOCUMENT.
As of January 2, 2023 all trees on the course have been re-marked with pink or green ribbons. Pink ribbons with a number as displayed in the photo above are trees slated for removal. Green ribbons with a number as displayed in the photo above are trees slated for a pruning schedule. The number on the ribbons corresponds with the document referenced in the previous paragraph.
The tree removal and thinning project will be bid in January 2023 with the intent to begin the project on or around March 1, 2023.
Tree planting will be conducted in the fall of 2023, with a final plan of tree quantities and variety presented to the Urban Forestry Commission in the summer of 2023. Consultation for planting location and varieties will be provided by Kris Spence, golf course architect, the City of Asheville's Arborist and the Urban Forestry Commission.
100% or greater of the removed canopy will be replaced.
Course Design & Planning
In November 2022, the City of Asheville applied for a grant from the Donald Ross Society Foundation in the amount of $30,000. This grant was awarded in December 2022 in full.
"In the years that I have been involved with the Donald Ross Society Foundation I can't recall another occasion when we granted the full requested amount by the first time beneficiary of the grant. The mission of the Donald Ross Society is to promote the recognition of Donald Ross, the excellence of his golf architecture, and the preservation and/or restoration of his course and to that end, we applaud the City of Asheville's efforts to restore this historically significant course. I also hope that we will be in a position to offer additional grants to Asheville Muni in the future."
Brad Becken
President
Donald Ross Society
Funds generated from this grant will be used for the development of Master Plan documents seeking to restore the relevant Donald Ross features in consultation with the City of Asheville and Commonwealth Golf Partners II – Asheville. The restoration master plan drawing will focus and make recommendations on, but is not limited to, restoration of the green complex size, shape, orientation, contours and any other putting surface recommendation the golf course architect deems necessary, bunker restoration including locations, size, shape, orientation, depth and character, hole corridor mowing widths, additional tees and/or teeing ground improvements, cart path recommendations and practice area improvements. The plan will include written narrative captions to describe the architect's recommendations for the individual features of the course. Additionally the architect will provide a limited number of perspective sketches and drawings of bunkers and green sections as needed to depict the restoration work. A suggested timeline/ordering of improvements will be provided to ensure cost effectiveness and to reduce overall impact of access to play throughout the process.
It is anticipated that the master plan will be completed by March 1, 2023.
November 2022
Treework is often one of the first projects within a golf course renovation or revitalization such as the project that is about to begin at the Muni. Shading, water access and drainage, all directly affected by trees (roots, drip edges, leaves etc) are three of the most important aspects to a successful update. A course superintendent needs to understand the environmental conditions that will affect the ability to manage the turf conditions while planning for future season practices. CGPA & the United States Golf Association reviewed the course and have recently hung ribbons on Trees throughout the course that may be removed or thinned. Thinning, for the purposes of this project is 'limbing up' the tree a bit to raise the canopy further off of the ground.

The application of the ribbons was completed November 6th
Additionally, stakes with a ribbon have been placed throughout the course in areas where trees will be replanted. The placement of these stakes was completed on November 6th.
The goal related to trees on this project is to ensure there is no net loss of total long term tree canopy and if possible increase the overall long term canopy.

Trees identified for removal are mostly dead & dying trees, invasives or trees in direct competition to a playing surface.
On November 7th and 8th, a TRAQ certified Arborist reviewed all trees that had been tagged with ribbons throughout the course providing suggestions and recommendations for each tree.
As of November 22nd, Trees have been re-tagged with ribbons throughout the course. Trees tagged with green ribbon are slated to be pruned. Trees tagged with pink/orange ribbon are slated for removal. Additionally, each tree's ribbon has a specific number written on it. This number corresponds to THIS DOCUMENT detailing the information about the tree including type, tree diameter and the reason for its removal/pruning.
Example of a pink/orange ribbon #60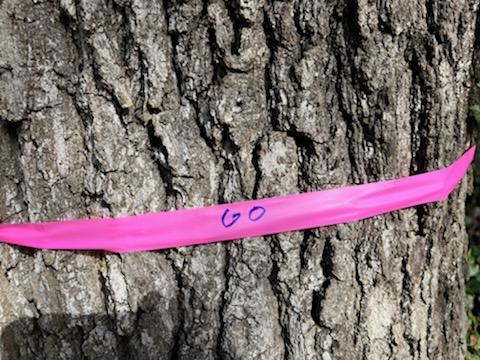 Example of a green ribbon #57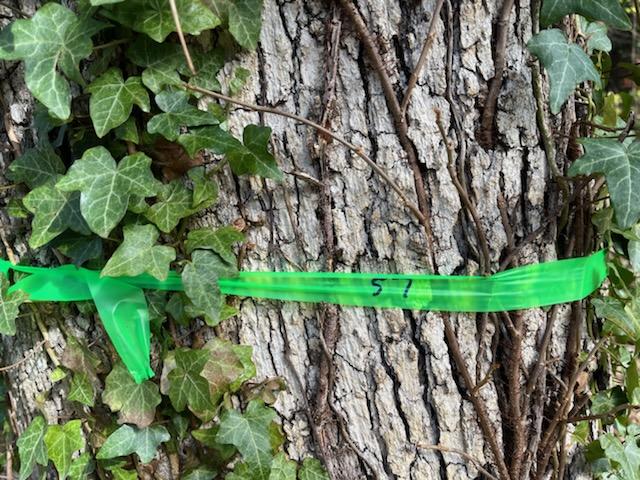 The final plan for tree removal, thinning and replacement will be presented to the City of Asheville's Urban Forestry Commission on Tuesday December 6th at 1:00 pm.
September 2022
As announced at the public meeting held on September 1, 2022 at the Dr. Wesley Grant Community Center. The City of Asheville invites neighbors and property owners in the East Asheville area to request a tree to be delivered to your property.

Looking forward, long term, if each tree that is removed is replaced with another tree on the golf course, eventually in time the course will be in a similar situation as the present with too many trees crowding into the fairways and affecting the ability to grow and maintain the various grasses.
In order to help meet our goal no net canopy loss we would like to purchase a tree or trees for interested property owners to plant if they so desire. Provided trees will be natives only, property owners will have a choice of type of tree, and the tree will be delivered to the property. Trees will be 6 to 8 feet in height and in the 10 to 15 gallon pot size.
Sign up to request a tree HERE
An informational email list has been established with periodic updates sent by the City, which will also be posted here on this website. To be added to this email list or for other questions etc, please contact Chris Corl, Director of Community & Regional Entertainment Facilities for the City of Asheville at ccorl@ashevillenc.gov