The Legendary,
Donald Ross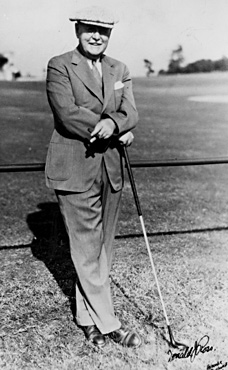 It is no exaggeration to say that Donald Ross played a vital role in shaping golf in the United States. Early in the 20th century he designed more than 400 courses, many of which are still highly regarded today. While many courses of his design remain private, his massive legacy expands into the public domain. Our very own Asheville Municipal Golf Course, designed in 1927, is a product of his genius.
Ross served an apprenticeship with Old Tom Morris in St Andrews before investing his life savings in a trip to the U.S. in 1899 at the suggestion of a Harvard professor named Robert Willson, who found him his first job in America at Oakley Country Club in Watertown, Massachusetts where he began his course design career. In 1900 he was appointed as the golf professional at the Pinehurst Resort in North Carolina, where he eventually designed four courses. He had a successful playing career, winning three North and South Opens (1903, 1905, 1906) and two Massachusetts Opens (1905, 1911), and finishing fifth in the 1903 U.S. Open and eighth in the 1910 Open Championship. As his fame grew, he began to teach and play less so he could focus on golf course design, running a substantial practice with summer offices in Little Compton, Rhode Island. At its height, Donald J. Ross and Associates, as his practice was known, oversaw the work of thousands of people. However, Ross always kept up his professional golf standing. His brother Alec won the 1907 U.S. Open.
Ross's most famous designs are Pinehurst No. 2, Aronimink Golf Club, East Lake Golf Club, Seminole Golf Club, Oak Hill, Memphis Country Club, Inverness Club and Oakland Hills. Some of his early work was in Virginia and includes Lakeside Park Club, Sewell's Point Golf Course and redesign of The Country Club of Virginia's Westhampton Course. He displayed great attention to detail. Often he created challenging courses with very little earth moving; according to Jack Nicklaus, "His stamp as an architect was naturalness."
Ross often created holes which invited run-up shots but had severe trouble at the back of the green, typically in the form of fallaway slopes. In the 1930s he revolutionized greenskeeping practices in the Southern United States when he oversaw the transition of the putting surfaces at Pinehurst No. 2 from oiled sand to Bermuda grass. Ross also designed the course at Sedgefield Country Club in Greensboro, North Carolina which is home to the PGA Tour's Wyndham Championship. Currently, Sedgefield Country Club is the only regular Donald Ross design on the PGA Tour. Aronimink Golf Club, located in Newtown Square, Pennsylvania, played host to the AT&T National in 2010 and 2011.
Ross was a founding member and first president of the American Society of Golf Course Architects, which was formed at Pinehurst in 1947. He was admitted to the World Golf Hall of Fame in 1977, a high honor rarely awarded for anything other than playing success. Ross died while completing his final design at Raleigh Country Club in North Carolina.
For more information about Donald Ross and his work go to Donald Ross Society – Home